"

The Mustangs turned our daughter's wedding into a wild party!"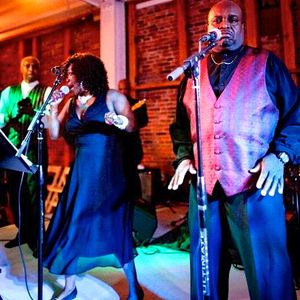 What People are Saying About us
There are more reviews on WeddingWire and TheKnot, the following were sent to us directly...
Walsh Wedding  
We LOVE the Mustangs! My sister had them at her wedding (after hearing them at her friend's wedding), and when I got engaged the first vendor we booked, after the venue, was the Mustangs. The music is amazing, they get everyone dancing, and they take requests from guests. Candice is great to work with. The band learned a few songs for us, and one which they couldn't they made sure to have the sound guy play when the band took a break. They really do an excellent job of fulfilling all requests, or at least coming close! We received so many compliments about the band, as we knew we would. A friend of mine told me she recommended them to her cousin after hearing them at our wedding. I hope the Mustangs are playing at the next wedding I attend! 
Robinson Wedding 
The band was awesome. All generations really enjoyed the music and they weren't too loud so no one else could talk at the venue. We had the time of our lives!
Bonardi - Briggs Wedding
Dear Candace, 
I just wanted to let you know how wonderful your band was last weekend playing for my daughter's wedding. As soon as the music began, the dance floor was packed. Having a great band is vital to having a fun wedding, and we all had a blast because we had a super band! Please thank all your musicians for me. We have 3 more children, so you may be hearing from us in the future! 
Thank you again, 
Elizabeth Bonardi 
O'Connell-Kracke wedding--THANK YOU! 
Candace, 
On behalf of our family, I would like to thank you for the great performance of The Mustangs at the O'Connell-Kracke wedding. It is being called "The Wedding of Decade" by the family and since hardly anyone left the dance floor for 4 hours, we agree!! The energy in the room was amazing and your rendition of their first dance song, Is This Love, was better than Marley's version! We ended up with beer and wine left over, as no one wanted to leave the dance floor to drink and that is remarkable!! 
Our son is getting married next September (9/10/11) on Cape Cod and we have to figure out how to get you there---we have decided that you are now part of the O'Connell family! Wouldn't you love to have a nice weekend on the beach next year???? And that same crazy crowd with the sombrero, dancing around you?? 
Thanks again from the bottom of our hearts, 
Marty and Patrick O'Connell 
Angela Hughes & Chris McAvoy 
Hi Candace- I think you guys did a great job at our wedding! We received a lot of compliments from our guests. I am not on Facebook, but I did go on weddingwire.com, and write a good review of the band! Thanks, Angela 
Amy Newhall Surprise Birthday Party for herself! 
Candace - They were wonderful and it was a big hit. I had a wonderful time and IT WORKED!!!! I was a little nervous about such a small group of guests, but it really was perfect and they did a wonderful job. Thanks so much, and I hope that I will have another occasion to use you. 
Thanks again. -Amy Newhall 
Emily Twiss & Stuart Leslie 
Hi Candice, Thank you for the email. I've been meaning to write to you about the band. The band was perfect! They got EVERYONE out of the dance floor for the etire night and, when we reached 11 p.m., everyone still wanted more music and dancing. They were awesome!! I cannot say enough great things about the band. I will recommend them to all of my friends who are getting married or planning weddings... the band truly made the reception a great party! 
Thank you so much for everything. -Emily 
Molly Bennett & Marc Moran 
Thanks Candace, the Mustangs were great and everyone had a blast! My 
new nieces say they have never had so much fun at a wedding. Neither 
ever dance at weddings and they were the ones who were on the dance 
floor the most at ours! Please thank the band for us and thank you 
for all of your help. Best, Molly 
Ellen Erickson 
Dear Candace & The Mustangs, Thank you for all of your help heading p to Dan & my wedding. Candace, you were a pleasure to work with. To all the Mustangs, you were a FANTASTIC band! Thank you for playing all of our favorites so we could dance all night at our wedding! We will always remember you. Best, Ellen Ericickson 
Dorothy Mooney 
Candace, I know you must hear this all the time, but, seriously, our guests have RAVED about the Mustangs! Almost every guest stayed until the end of the reception, and everyone danced the whole evening. I have had many people call or email, saying it was the best wedding reception they've ever been to! The bride and groom loved the band and are especially grateful for their special songs (entrance, first dance, etc.) 
I only have one daughter (three sons!) so this is the only wedding reception I will give. But I have LOTS of friends with kids this age, so I will recommend you highly to everyone. 
Thanks for making it a memorable evening, and for being so pleasant to work with. 
Sincerely, Dottie Mooney 
Erin Wright & Koonal Ghandi 
Hi Candace, 
We just got back from our honeymoon and wanted to write and tell you how much we loved the Mustangs! They really rocked the house over at Glen Echo and made the evening exactly what we wanted it to be. The dance floor was packed all night long, and the vocals, horns, and keys were truly oustanding. We've recieved so many glowing compliments on behalf of the band. We searched for a long time to find just the right band, the music for the evening was our highest priority and we just couldn't be more pleased with their performance. Our sincere thanks to you and the band! -Erin and Koonal 
Ellen Cornelius & Daniel Erikson 
Everything went really well! 
We loved the band and all of our guests had a great time dancing to their music. 
Thank you for all of your help and I hope to work with you again in the future! - Ellen 
Brittany Newell-Lipscomb 
Well, I am sure this is not a surprise, but I truly cannot say enough wonderful things about the Mustang Band! They were absolutely terrific for the following reasons: they showed up and did everything they said they were going to do, they did not play the music too loud, they played everything we requested, they checked in with both my husband and I throughout the night to make sure everything was as we wanted it, and they were very, very talented. My parents said they got more compliments on the band, then anything else. They were just truly exceptional.Just to throw this out there, I would love to support the Mustangs on a referral list for the band if one exists. I think I might have called a couple people when I decided to book them and I found that to be very helpful in making my decision. Anyway, I was just so pleased with there service, I wanted to try to help them out in the future. I hope this feedback is helpful. I will defiantly recommend you all to other friends I have who are interested in booking a live band for an event. Thanks again for all your help! -Brittany 
Catherine Mason & Stanley Hammer 
Hi Candace! The band was WONDERFUL. The lead female and male vocalists were AWESOME. I didn't want them to stop. 
Thank you for all of your help! Is the band coming to the Richmond area for any public events anytime soon? Thanks again! All the best, Catherine 
From Wedding Planner 
Just wanted to send you a quick note to let you know how great it was to work with The Mustangs this past weekend! We had a few unexpected changes throughout the evening and the band was great and completely willing to roll with us on those, which I really appreciated. Please send my personal thanks to the band. I really enjoyed working with them and would love to work together again in the future! 
Cheers, Sara Bauleke 
Bella Notte www.bellanottedc.com 
As featured in Martha Stewart Weddings Magazine 
Christina Enoch & Eli Klemmerer 
Candace - I can't tell you how much we enjoyed having the Mustangs play at our wedding. We have family and friends that LOVE to dance and they were certainly satisfied that night. I don't think I've ever been to a wedding that felt like a concert by the end of the night - the entire crowd was chanting "One more song! One more song!" The band members were energetic and aimed to please. I could go on and on. We will certainly recommend them to all our friends - though anyone at the wedding heard for themselves! 
Becky Boyle (mother of bride) 
Candace-- Gosh.... I thought I wrote to you!! It was absolutely perfect-- the band made the evening- everyone danced almost all night and most importantly, the guests all commented that it was the BEST band they had ever experienced-- so thanks for thinking to write, I know the Mooney's were delighted as well with their reception on the 15th(?) of Aug...I would highly recommend the Mustangs band and believe I wrote something on the knot website..hope you are doing well- I wish I could afford to hire them again for some random fun party!! Becky Boyle 
Corporate event for TMD Design Corp 
Hi Candace, 
The band did an amazing job on Saturday, everyone had a great time and the dance floor was packed right through to the last song. 
I hope to be able to work with you again. 
Thanks so much, 
Michelle Spearman 
Martha Moore - Bal Du Bois Party, Richmond, VA 
Candace- the Mustangs were excellent. They held up strongly throughout the 
end of the party. We were so appreciative of their professional ways. Their 
vocals were outstanding, as were the percussion and everyone in the group. 
We thought they were unbelievably spirited, good and more or less perfect. 
-Martha 
Tony Costello & Laura Jacobs 
Sorry it took us so long to get back to you - we have been a little busy since returning from our honeymoon. The wedding was absolutely perfect. The Mustangs were great. One thing that was important to us was that people would dance until the final song- and the Mustangs certainly had them doing that. Several guests commented that it was the best wedding band they had ever seen. It was also great that they learned our first dance song instead of us having to use a CD like I've seen at so many weddings we have been to recently. I would strongly recommend using the Mustangs - so let me know if you ever need a rec. from Luara or I. Thanks Again, Tony 
Amy & Peter Creedon 
Hi Candace-I just wanted to tell you that The Mustangs did an amazing performance 
at our recent wedding! We loved them and so did all of our friends and 
family! Since we got back from our honeymoon everyone we have talked to 
tells us how much they loved our band! 
We will recommend the Mustangs band to anyone we know who is hiring a 
band for a party or wedding! Thanks again, Amy and Peter 
Jennifer Willson & Nate Adams 
Hi Candace - just wanted to send a quick note to thank you and the band again for doing such an awesome job. Me and my family LOVE you guys!! -Jennifer 
Becky Meiller & Sean McMullagh 
The Mustang's were AWESOME! 
Thanks you so much, couldn't have had a better time, everyone was dancing till the last second ( i think i injured myself i was dancing so much). If you ever need a recommendation, give us a call! -Sean & Becky 
Kate Bnnitt & David Coleman 
Candace, Before we leave for our honeymoon, I had to tell you what a FABULOUS night we had with the Mustangs! They were absolutely fantastic; we could not have asked for a better band. They kept the party going until the last song, and a few guests wandered up to ask if they could play longer. They made the evening. Every single person was fun, enthusiastic, kind, and talented. I can't say enough good things about The Mustangs. Several guests have asked for their name and contact info and I will HAPPILY do anything I can to promote them to others. Thank you, thank you, thank you! We had a blast; it was such a fun night. It wouldn't have been the same without The Mustangs! All the best, Kate 
Dick-Hazard Wedding 
Candace, Thanks for your well wishes. Indeed, the wedding and reception were a 
huge success. The Mustangs did a fantastic job. They are talented 
musicians and the 'tightest' band I've heard at a wedding reception. 
We really enjoyed having them and would recommend them without reservation to anyone. 
I appreciate your assistance throughout the planning process. Take care, Alex 
Dick-Hazard Wedding 
Great performance! Throughout the evening the band electrified the audience from ages 20 to 86. The dance floor was full the entire evening. We received compliments on the band throughout the evening and for days to follow. David Panzer and his band provided the catalyst for a great evening of fun and celebration of the marriage of Alex and Becca. 
Thank you again for a great show. Sprague Hazard 
Pfaff-MacFayden Wedding 
Hi Candace: To say that we were happy with the Mustangs would be an understatement. They TRULY blew Ian and I (and the rest of the party, from kids to the older crowd) away. I don't think I left the dance floor the whole night. My only complaint would be the noise ordinance that made them stop!! The crew was professional and extremely helpful in contributing to the pace of the evening with background music, speeches and general awareness of everything going on. The Mustangs became one of the elements of the wedding that made it truly unforgettable. Beyond the Sea was a great performance for Ian and I, and I think my Dad and I both felt we were being sung to my Louis Armstrong himself with What a Wonderful World. It's been busy getting back from everything and into our settled routine, and I apologize for not being in touch sooner. If you would like Ian and I to write a review or something along those lines, ever, please know that Ian and I would be more than happy to. Hope this find you well, and our best to the band! -Annie 
Jeremy & Joy Haft Wedding 
Candace, Please tell the Mustangs band that WE ABSOLUTELY ***LOVED*** THEM!!!!! All of our guests said they were the best wedding band they'd ever heard -- and that includes us, and we've heard a lot of bands, and I'm a musician. Their musicianship -- their CHOPS!! -- were beyond compare, and they played with so much soul -- and love -- and heart. Song after song after song. There wasn't a dull one in the box, whether playing jazz or soul or rock or funk. EVERYBODY was out on the floor -- from toddlers to 80 year olds. 
As for the bride and groom, we absolutely adored boogying the night away with themand could have literally danced all night. THEY WERE SO MUCH FUN!!! Again, thank you so much and please tell the band that they helped make the evening one we will never forget. If ever we have another event that requires music we will most definitely call upon them once more. Thanks again, Jeremy & Joy 
Martha Crampton, mother of bride 
The Mustangs were absolutely incredible! They were wonderful as you promised they would be. Everyone danced the entire night and had a fabulous time. Many of our guests have asked who they were and have complimented us on such a great band, so I thank you so much for you help in booking them. If they ever need a recommendation, the Cramptons would be happy to do so. Hope you are enjoying your summer; thanks again! -Martha 
Barbara Dover, mother of bride 
The wedding went great!! My son sang with the band for Katie and Beret's song Better Together. Elvis was great. The band was great and veryone rock and rolled all night long! Did the band agree? Great working with you. Thanks so much, Barbara Dover 
Lauren Aronson & Rob Hendin-wedding 
Candace, I Just wanted to send you a short note thanking you and the band. They were absolutely incredible. You guys were, by far, the best vendor choice we made for the wedding. The band was just unbelievable. The dance floor was packed the entire night.The wedding was truly everything we wanted it to be and the Mustangs were a very big part of that. We are still getting emails from friends and family telling us how much they loved the band. So, please send our sincere thanks to the rest of the band. It was truly wonderful. Thanks again, Lauren 
Heather & Darryl Drevna-wedding 
Dear Candace, Darryl and I cannot thank the band enough for playing our wedding on the third. They were absolutely amazing and really made the party a huge success! Everyone can't stop talking about how wonderful they were and asking when we're going to have another party with them. They played something for everyone and it was greatly appreciated by young and old alike. I especially can't thank them enough for how sweet they were in accommodating the children who were in attendance. I almost died when I looked up and saw my 8-year-old cousin Jack playing maracas with the band and singing along with "Respect." The kids had the time of their lives and Jack is asking to take guitar lessons so he can be in a band permanently! -Best wishes, Heather 
Guest At the VA Tech Alumni Dance 
I would just like to say thank you for the fantastic night you gave last night. I was at the Virginia Tech dance and you guys rocked the house, I have never been able to use my dance skills that I learned when I was younger with any other band but you guys just kicked it and I would just like to say thank you. Thank You Again, Benjamin Joseph Leighton 
Chris Carey/Amy Strasser-wedding 
Candace, Many thanks to the Mustangs Band. They were great and a big hit with our friends and family. They even allowed me to get in the act during Love Train. (I'm the one in the middle). 
Please pass on our thanks to the band for a great performance. We will definitely be down to Ledbetter's again and will recommend the band every chance we get. -Chris 
Ray Infussi & Mary Beth Duke-wedding 
Dear Candace, The band was wonderful, they kept things hopping, allowed a nephew & some cousins to get up onstage & sing some songs. We were extremely pleased with the band. Folks commented that it was the best reception they had ever been to.The band played another set on request and could have had them play for another hour. Folks were having that good of a time. Feel free to list me as a referral for any potential events. -Thanks again, Ray Infussi 
National Aquarium in Baltimore Fundraiser 
Hi Candace, , I am THRILLED that we are getting the Mustangs again for our event! The decision by the committee was unanimous (and you had stiff competition!). I didn't even have to lead them in the right direction - they just made the right choice by themselves! Make sure you come this year - it is a great party! -Regards, Jo Keller 
Allison Smith & Brian Knab-wedding 
The Mustangs were fantastic, and made the evening a tremendous success. All of guests loved them and everyone said they were the best band ever heard at a wedding. I would have to agree with that accessment. Their music was just right and played with great enthusiam, all evening. They took just one break, when we had the cake cutting and toasts. We had a full dance floor the whole night, and my daughter and son-in-law did not want to leave. All three vocalists were terrific. They all sounded like the originals. The horn section was also terrific.Candace their manager was very helpful and responded to all of our requests. Although I thanked the band at the end of the night, would you please thank them again for me. And thank you for making this wedding a great success with your recommendations and choices. -Dave Smith (Father of the Bride) 
Angela & Jon Helfman-wedding 
I wanted to thank you and pass more thanks along to The Mustangs Band. 
Everyone at the wedding couldn't stop talking about them. The music was 
perfect. Couldn't have asked for more. They surprised Jon's mom and Jon 
with the Wonderful World selection instead of 'Through the Years', and it went 
over well. Recommendations or a nice quote, whenever you want, -Mr. and Mrs. Helfman 
Carolyn Storck and Tom McNeill-wedding 
Candace, Just a quick note to let you know what a success our wedding reception was...all thanks to THE MUSTANGS!! I don't know who had more fun- US, our GUESTS or the BAND. I don't know if it was the women in long dresses doing back flips, or the band members wearing my veil...but it was a successful night and everyone young and old was on the dance floor. -We love you guys! Carolyn and Tom 
Brendt & Tammy Garlick, wedding 
Candace -I just wanted to pass along a Thank You to you and the Band - they were great. I really appreciate the 'short notice' learning of our song - it sounded wonderful! Everyone loved all the songs they played and had a really good time. I will be sure to pass along a glowing recommendation to anyone I know who needs one! -Thanks again. Brendt. 
Beth & Steve Holmer-wedding 
Hi Candace -- Steve and I just got back from our honeymoon. Hope you got my card while we were gone. The band got RAVE reviews all around. Many many people who were at the wedding said The Mustangs were the best wedding band they had ever heard. I agree! Thanks for making our wedding super fun! -Beth & Steve 
Leah Cangemi & Doug Humpries-wedding 
As expected! Candace - the band was spectacular! I was overwhelmed by how much energy and feeling they put into the day. Not only did they truly "perform" but the lead singers simply charmed the guest throughout the day! I must have had over 50 people solely compliment me on the music and the musicians, not to mention how many people expressed the same to the groom and our families. "America the Beautiful" brought tears to many eyes. 
Kesi Gilford & Austin Reynaud-wedding 
The band was great. We had between 450 and 500 guests, and everyone--old and young--was dancing at some point in time that night. Bobbie was the bomb. She put on quite a performance. Everyone loved the band, but they especially loved Bobbie. Thank you so much for helping to make my special day so wonderful. Kesi Gilford Reynaud 
Blake & Kathy Hill-wedding 
Howdy Candace, I wanted to thank you for arranging the Mustangs Band to play for us. They were the best wedding band I have ever heard and all of my guests have been asking about them. We had friends from Hong Kong want to fly them out there for a gig! I don't know if that will materialize, but I did want to thank you. They were fantastic in every way possible. -Best wishes, Blake 
Federique Campagne-wedding 
Hi Candace! Everything was great, and the band was a huge success. They were perfect, and everyone was sad when it was over and time to go home! Thank you so much for working , you were always very helpful, and sincere. I will definitely recommend your band time and time again! - Take care, Fred 
Dick & karen Taber-wedding 
Candace, The Mustangs Band were great. They got everyone up and moving. Most importantly they backed me on the Aerosmith song I requested - Big Hit with everyone. -Many thanks, Dick Taber 
Jim & Kathy Meyers-wedding 
Candace, it was a blast. everyone had plenty of niice things to say for you all too. Kathy and I thought we may wanna send you a photo or two or some video footage (if its any good) just because it went so well. Trust me, we are singing your praises to our friends (many of whom may just be gettin hitched within the year).. -Thanks Again, Jim 
Bryan Hazard, a guest at the Meyers wedding (our favorite letter!) 
To the Mustangs Band, I had the pleasure of attending David and Tracy Meade's wedding on June 30, 2001, and I was floored by the Mustang Band's musical genius. I was one of the guys who had sweat through two shirts by the end of the night, dancing and singing along to every song. The energy in the room was unfathomable, and it was strictly due to the stage presence and show(wo)manship of the band. I have not stopped talking about the band, and it has been 4 days since the wedding. The whole night was a blast, and although the night gets a little hazy by the end, I do remember enjoying my dance with Barbara towards the end of the night. Your professionalism and grace throughout the night made my great friends wedding a huge success! I hope you enjoyed playing for us as much as we enjoyed listening to you. It was a super night!!! -Sincerely, Bryan Hazard "The drunk guy who probably made a fool of himself, but didn't care!!!!" 
Gretchen & Forrest Thamasson-wedding 
Hi Candace! I wanted to email you and send a thank you card (which I still plan on doing) to the band to let you know how much we loved them. Every single person at the wedding made a point to approach Forrest and I and tell us how much they loved the band. They were great! The music was wonderful and they really added a personal touch with their own personalities! We even had a karoke show going on- a couple of talented guests got up on stage and sang with the band! It was a wonderful evening. I am so glad that we had the Mustangs play at our reception. Actually, all of the guests are begging us to have an anniversary party every year so that we can have the band play again....even my grandmother! Could you please give me an address that I could mail a card to? I also wanted to send David a picture that I thought he might like. -Thanks again, Gretchen 
P.S. Thank you for being so helpful and informative during the planning process. Planning a wedding for the first time is scary and frustrating, but I knew that I could call or email you with any and all questions that I had. Thanks a lot! 
Janine & Kane Brenan-wedding 
Candace, Everything went great at the wedding. I received many compliments about the band. Thanks for all your help along the way, -Janine 
Theresa Segreti of The American Visionary Arts Museum of Baltimore 
Dear Candace, David, and Mustangs, Many, many thanks for such a fabulous performance on Saturday night. The place was packed like a sardine can and you had the crowd in the palm of your hands. WOW! The crowd loved it and so did we. Hope we can do it again, -Theresa 
Rob Schupler & Liz Morgan - wedding 
"Hey Candace, A belated note to say WOW! The band was awesome and really made our wedding. Everyone raved about the music and their personality and I want to thank you for your help in coordinating their gig. I heard they play in NYC and wanted to know when and where they will be appearing next. Liz and I would love to go see them perform. Thanks again and let me know if you could, Rob ps. please feel free to add me to the band list of references. -Rob 
Jane Leavy - (threw a surprise birthday bash for her husband on Feb 3, 2001) 
"THE MUSTANGS made the whole thing worthwhile. You have many, new, major fan in the D.C. area and several people have already asked for the name and number. So, yeah, we all got sauced: I could have danced all night. Can't thank you and them enough. Let's do it again. -Best, Jane 
Martha Livingston-bride/wedding client 
"The Mustangs were perfect...we've received so many compliments about the band, please feel free to use me for a reference anytime". 
Mrs. Marfori - we played for both her daughter's parties 
"I cannot thank you enough for such a wonderful night. The band really made the evening perfect and you were a pleasure to deal with. I have received so many calls congratulating us on such a wonderful party. Thank you so much for making our event so much fun, the kids really enjoyed themselves"! 
Jennifer & Bruce McCay-wedding 
"We received nothing but compliments about the band. We will always remember our wedding party thanks to the Mustangs Band! I'll be referring you to all of our friends who are planning any kind of party " 
Mr. & Mrs. Hampton-wedding 
"The Mustangs Band turned our daughter's wedding into a wild party. We can't thank you and the band enough...!